________________________________________________________________________
Sunday, October 11, 2015
Bones and Cones Art Exhibit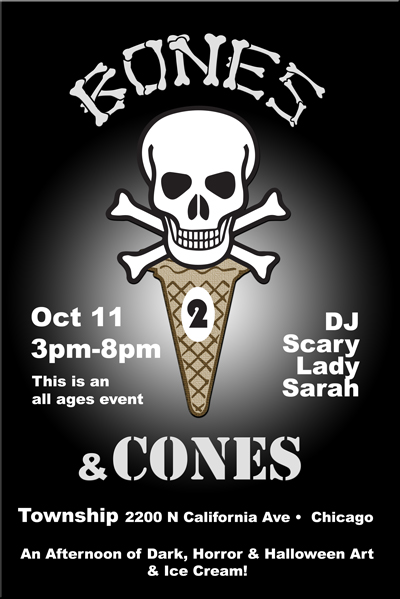 Dark Art Show & Ice Cream!
With October being Artists' Month and everything HALLOWEEN, Come out and support local artists and enjoy some (vegan) ice cream too!

Scary Lady Saraha> will be providing the spooky ambiance
General Admission $5.00
This is an all ages event
3pm-8pm

Artists - Faith Betinis
Frankenwerks Studios
Dreaded Jenocide
~E~
Dana Day
Julia E. Groves
Ellen Gipson
Angela Bachman
Geo Alderson
Dayo Steph
Krista Walker - WalkerKDesigns
Eric Lower - LOUDwerk
Tomasz Klymiuk
Jay Krevens
Randi Drozd
Cassandra Robin
Lorenzo A. Bonilla
A. Goldin
Bruce Bilek
Mike Drost
Roz Anomaly
Ashley Robin Pedone
Lucas Bianchi
Ryan Swain
Alex Gregory
Kennedy Shenberg
Jennifer Anne Buckley
and more!


________________________________________________________________________
Friday, October 16, 2015
Comfort Stations All Hallows' Eve Party: Presented by SideShow Gallery, Laughing Eye Weeping Eye, and Space Oddities Chicago.
Friday, October 16 at 10:00pm - 2:00am

Comfort Station is having an All Hallows' Eve Party in partnership with Logan Square's SideShow Gallery (sideshowgallerychicago.com), Laughing Eye Weeping Eye (http://rebeccaschoenecker.com/tarot.html), and Space Oddittes Chicago (facebook.com/spaceodditieschicago).

There will be wierd projections. There will be brief performances at 10pm, where famous practitioners of the OCCULT are channeled. There will be divinatory and eccentric tems for sale from the collections of Sideshow Gallery, Laughing Eye Weeping Eye, and Space Oddites. Various shrines and stations throughout the space will also offer:

Tarot Reading
Rune Reading & Blessing
Ancestor Shrine
Spell Casting

This event is FREE, however it is suggested that you donate $5 - $20 to practitioners.


________________________________________________________________________
Friday, October 30, 2015
Annual NOCTURNA All Hallow's Eve Ball! 2015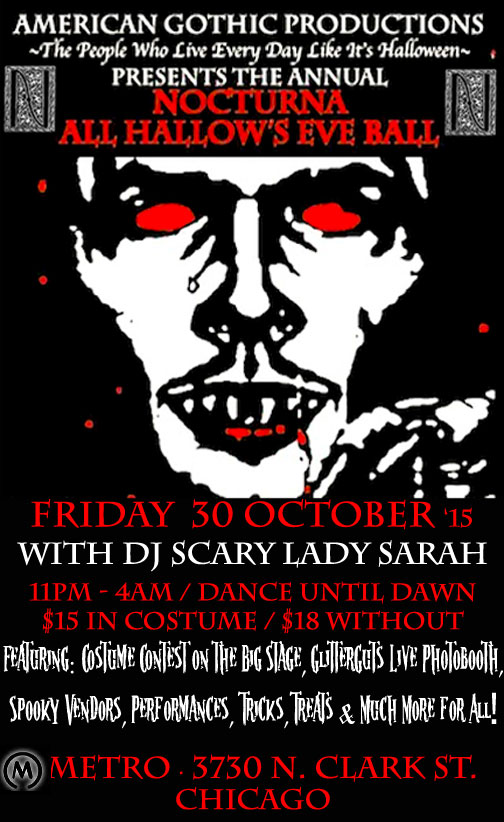 Metro Chicago 3730 N Clark St, Chicago, Illinois 60613

Our huge annual favourite holiday event is back!!! This is *THE* Halloween event to attend, brought to you by American Gothic Productions- the people who live *every* day as if it were Halloween!!!

Cool & spooky things provided for this affair include:

- Our annual Halloween costume contest up on the big Metro stage (win big cash, free concert tickets including to see The March Violets, Kill Hannah & more, cds, prize packages, gift certificates from local goth-friendly businesses & much, much more!)

- A totally spooky decked out for the holiday venue!

- GLITTER GUTS live photo booth; free; show off your costume to the world!

- Frightening film features

- Spooky vendors including (Nocturna faves:) DreadedJenocide: The Place for Lovely Spooky Things offering dread falls, pony falls, spooky barrettes, horns, clothing, MANIC PANIC brand cosmetics & more!

- Treats (& maybe tricks?!) for *all*
- Halloween-themed performances (to be announced soon!)
- The dark music you love to dance to all night long, spun by DJ Scary Lady Sarah ...and more!
Join in the spirit of the season and accompany us for a grand time!!! :)

Nocturna, now in its 27th year, is an 18+ dark alternative dance night held once every other month or so in Chicago. DJ Scary Lady Sarah spins a highly request-driven mix of current & classic goth, industrial, post-punk, deathrock, ethereal, shoegaze, new wave, ebm, darkwave, dark indie & more. It's a lot of fun & you should go! ;)

At METRO, 3730 N. Clark St, Chicago
11pm - 4am- Dance until dawn!
18+ / $15.00 (or $18.00 if you're not wearing some semblance of a costume!)

Advance tickets on sale now:
http://www.etix.com/ticket/p/2134079/the-annual-nocturna-all-hallows-eve-ball-chicago-metrochicagoil

More info coming soon!

Thank you! Please help spread the word! Hope to see you all there! :)

...It's the most wonderful time of the year!!!
♥ ♪ ♫ ★ ❤ ☆ ♥ ♪ ♫ ★ ❤ ☆ ♥ ♪ ♫ ★ ❤ ☆ ♥ ♪ ♫ ★ ❤ ☆ ☠